Article-to-Video player Example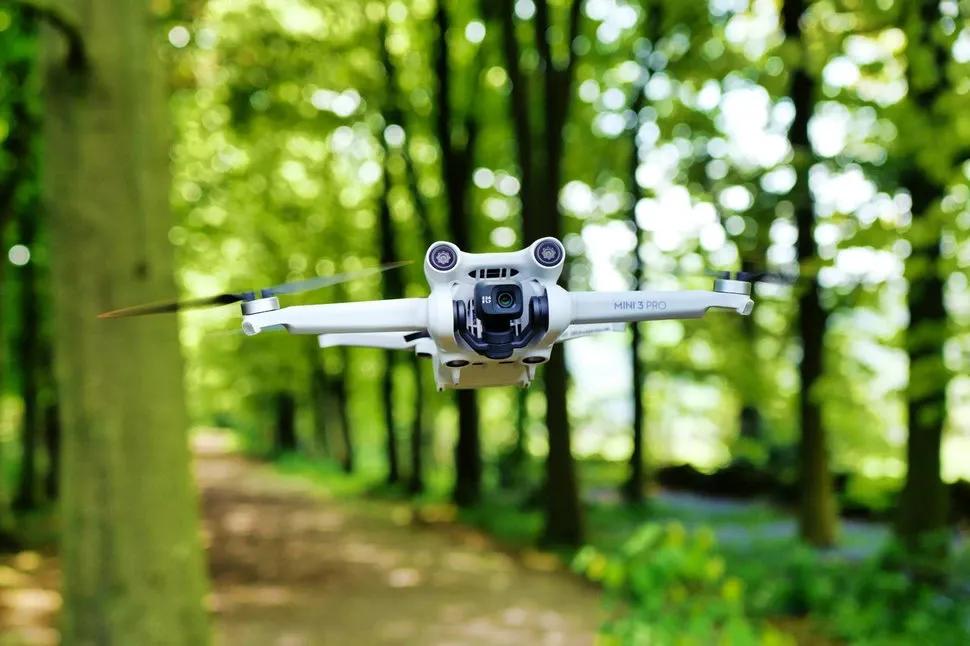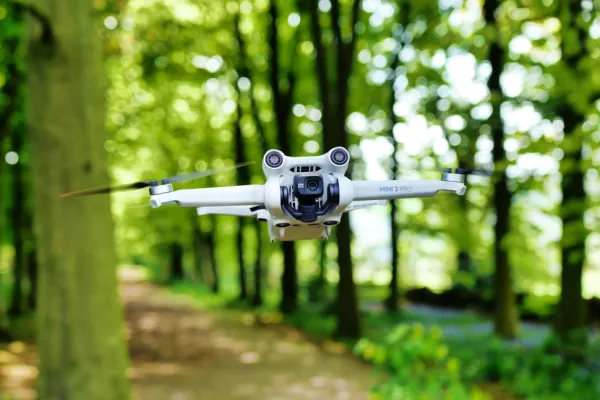 (Pocket-lint) - The Mini 3 Pro is an entirely different beast from what we've seen previously from DJI, shelling the entry-level tag of its predecessors and offering a truly compelling option for all comers.
With the original Mavic Mini, released back in 2019, DJI produced an impressive video and photography drone that fell into the all-important sub-250g weight category required to bypass drone restrictions. To do so, though, the company removed some of the features found on its larger, heavier and more premium options.
With a lower-spec camera and fewer sensors, then, the first Mavic Mini was more of an entry-level drone - with an entry-level price point to match. The introduction of the Mini 2 saw the specs improve, but there were still a lot of omissions in order to meet the weight criteria.
The third-gen model changes that, adding some of DJI's most impressive features while also, crucially, remaining under 250g.
The amount of tech packed into this little quadcopter is truly staggering, so let's take a look at what this mini marvel can do.
Our quick take
DJI has taken the majority of the features from its flagship drones and somehow squeezed them into something that folds into a footprint smaller than most smartphones, and is about as heavy as a hamster.
Not only does it make things easier when it comes to staying in line with local regulations, but it also makes it much less of a chore to carry and, therefore, actually get out of the bag and use more.
While certainly favouring function over form, the design updates are also incredibly smart, making the Mini 3 Pro an extremely versatile creative tool. The flight experience is second to none, and we were astonished at how well a craft of this size and weight could handle the wind. Throughout our testing, we found it easy and safe to fly, thanks to the abundance of sensors and autonomous flight modes. Finally, and maybe most importantly, the image produced is fantastic.
Our only wish is that it could be had for a little less cash, but we do feel the upgrades justify the increase in cost. So, as it stands, the Mini 3 Pro is our favourite drone to date.
Choosing your options
Mini 3 Pro without RC - €739 / £639
Mini 3 Pro Standard - €829 / £709
Mini 3 Pro with DJI RC - €999 / £859
Fly More accessory kit - €189 / £159
There are more options than ever when it comes to choosing a Mini 3 Pro package. This includes a particularly exciting edition - one that comes with the all-new DJI RC standalone controller. Let's take a quick look at what each option gets you.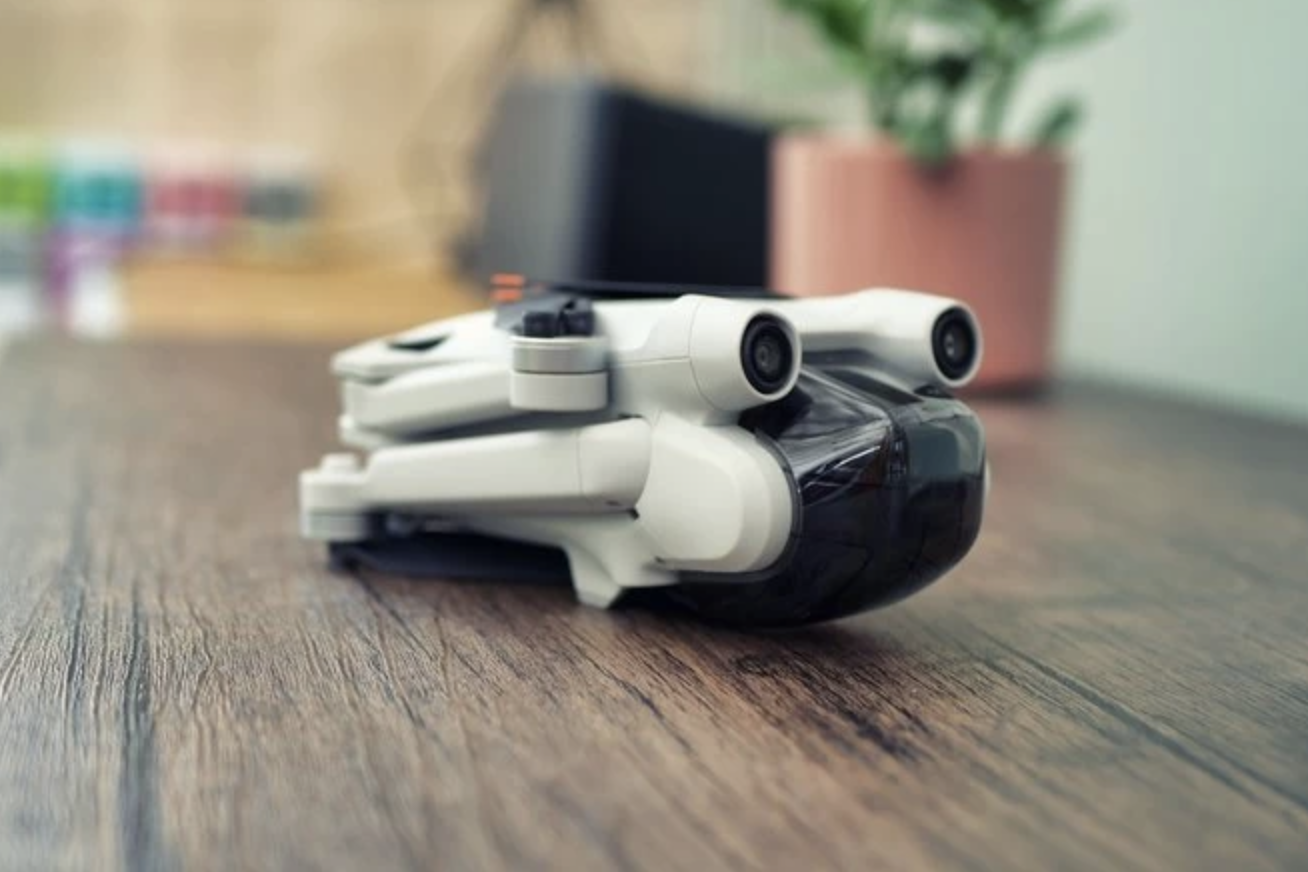 POCKET-LINT
First, there's the option to buy the Mini 3 Pro with a single battery and no remote controller. You won't be able to use it without a controller, but, since the Mini 3 Pro uses the same RC-N1 controller as the Mini 2, Air 2 and Mavic 3, those who already have a controller can save some money by buying it without. You'll also get some basic accessories, such as the gimbal protector, spare propellers and screws, along with a type-C cable.
Then, there's the standard edition, which comes with everything mentioned above and the RC-N1 controller that we know and love.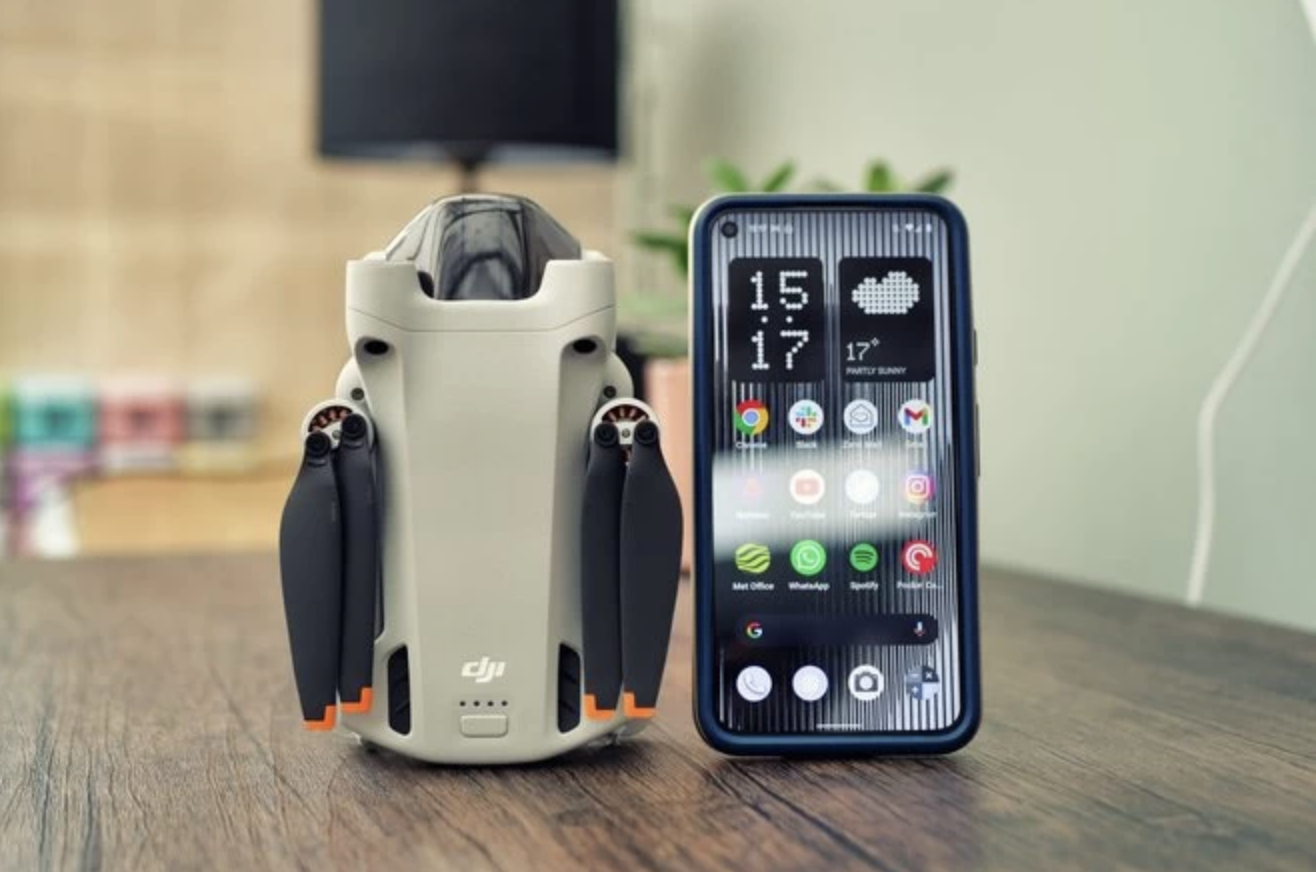 The most enticing and expensive variant comes with all the same kit but replaces the RC-N1 controller with the new DJI RC controller. This controller has a built-in 5.5-inch touchscreen display, which allows you to fly the drone without the use of your smartphone. Essentially, there's a stripped-down Android phone built directly into the device, so, while it is expensive, it's quite good value for the tech that's included.
Interestingly, there's no Fly More Combo for the Mini 3 Pro. Instead, you can purchase the Fly More accessory kit separately. The kit gets you two additional batteries, a three-bay charging hub, a carrying case and more screws and propellers. The charging hub is great - it plugs in with a standard USB-C cable and can charge three batteries at once, and it also has a USB Type-A output that can be used to charge up the remote controller or your phone. It's a nice kit, but we do think the asking price is on the steep side.
Design and features
Takeoff Weight: 249g
Diagonal Length: 247mm
Storage: MicroSD card slot
The most immediately noticeable design change with the Mini 3 Pro is the inclusion of two massive obstacle detection sensors at the front of the drone. The aesthetic isn't as nice as the sleek, streamlined designs of its predecessors, with the change giving the drone a chunky frog-like vibe. We think most would agree, though, that the added functionality more than makes up for it.
POCKET-LINT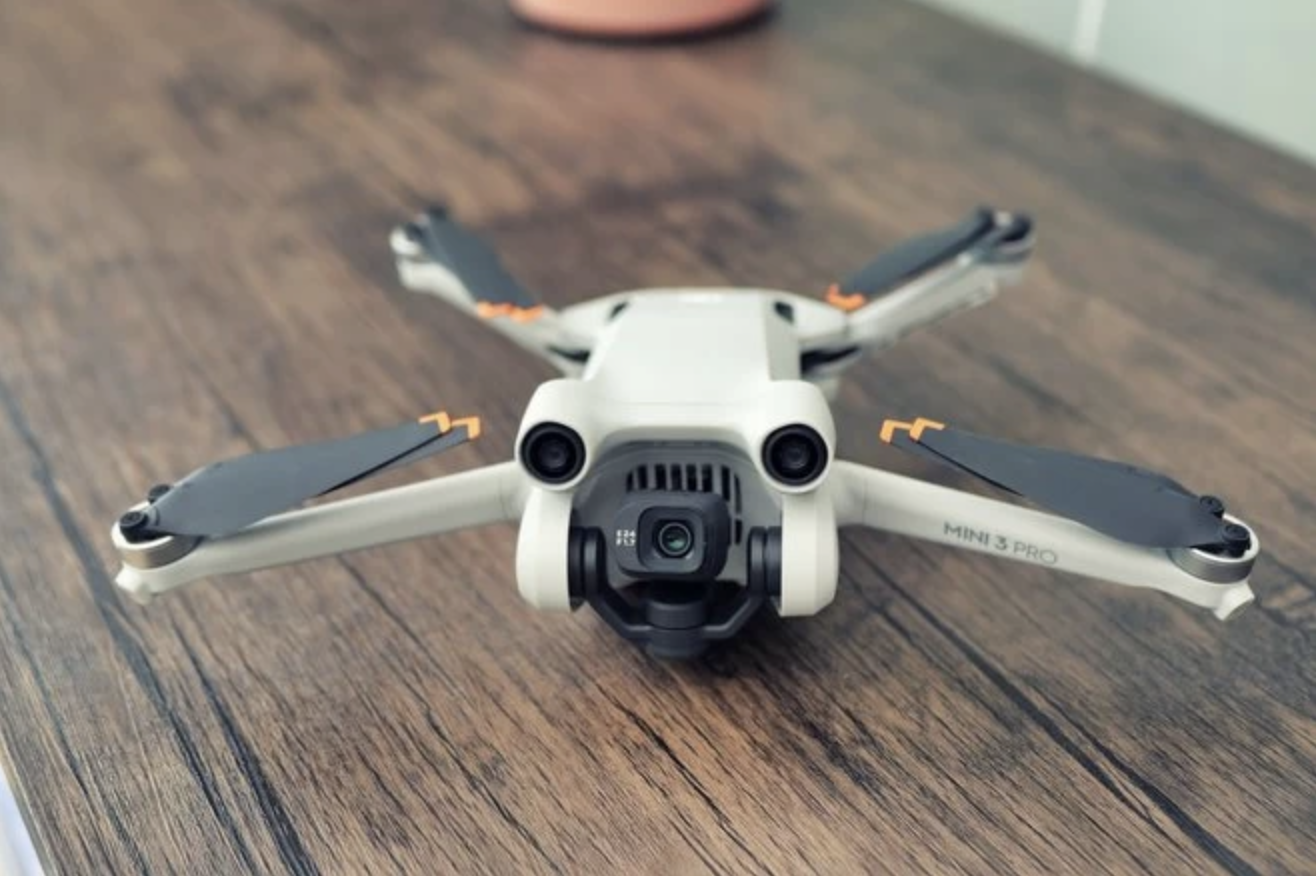 One aspect of the design that is especially clever is the way the front of the drone is shaped to not obstruct the camera's view. The area between the front sensors sweeps backwards, allowing the gimbal to point upwards at almost a 90-degree angle without obstruction. This means that you can get low-angle shots that were never possible on previous models, and still aren't possible on a lot of the brand's most high-end models.
The redesigned gimbal is also more robust and less prone to tilting when flying at high speeds. In addition, it adds something unique to the Mini 3 Pro - true vertical shooting. The camera module can rotate 90-degrees to shoot vertical videos and photos, which are better suited to social media platforms like Instagram and TikTok. Vertical shooting is also great when it comes to shooting pictures of large buildings, waterfalls or rivers without compromising image quality.
When folded for storage, the Mini 3 Pro is roughly the same size as the Mini 2. However, DJI has somehow managed to fit larger propellers on this version. These are more efficient than the previous props, and so give us a slightly longer flight time, in addition to creating a lower-pitched sound.
The RC-N1 controller remains completely unchanged from previous releases, so, if you opt for the standard edition, there will be no surprises there. The new DJI RC controller, on the other hand, is very exciting. The built-in screen is large at around 5.5-inches and gets very bright for flying in direct sunlight - on par with our Google Pixel 5.
The weight is almost the same as the RC-N1 and an average smartphone combined, coming in at 390 grams. Compared to the RC-N1, you lose two buttons from the front of the controller but gain an additional shoulder button and slider. There are two more programmable function buttons on the rear of the controller, too.
We found the DJI RC controller to be a delight to use, with the largest benefit being that our phone wasn't tied up for the duration of our flights. Since flight times are getting longer and longer, we can only see this getting more desirable. The touchscreen was also very responsive, and the DJI Fly app worked flawlessly, running just the same as it does on a smartphone.
Ergonomically, the DJI RC felt better, as well, though it must be said that our hands are on the larger side and this will likely depend on the individual. The only thing we didn't like about the RC is how long it takes to boot up. It's understandable, given that it's booting Android, but it can be a little frustrating if you're in a rush.
The flying experience
Max speed: 35.8mph in Sport mode
Max flight time: 34 minutes with standard battery
Three-way obstacle avoidance
When it comes to flying, we really put the DJI Mini 3 Pro through its paces, flying in some strong winds that were well above the speeds that DJI recommends (sorry, DJI).
Even in the most challenging conditions, the Mini 3 Pro performed admirably.
POCKET-LINT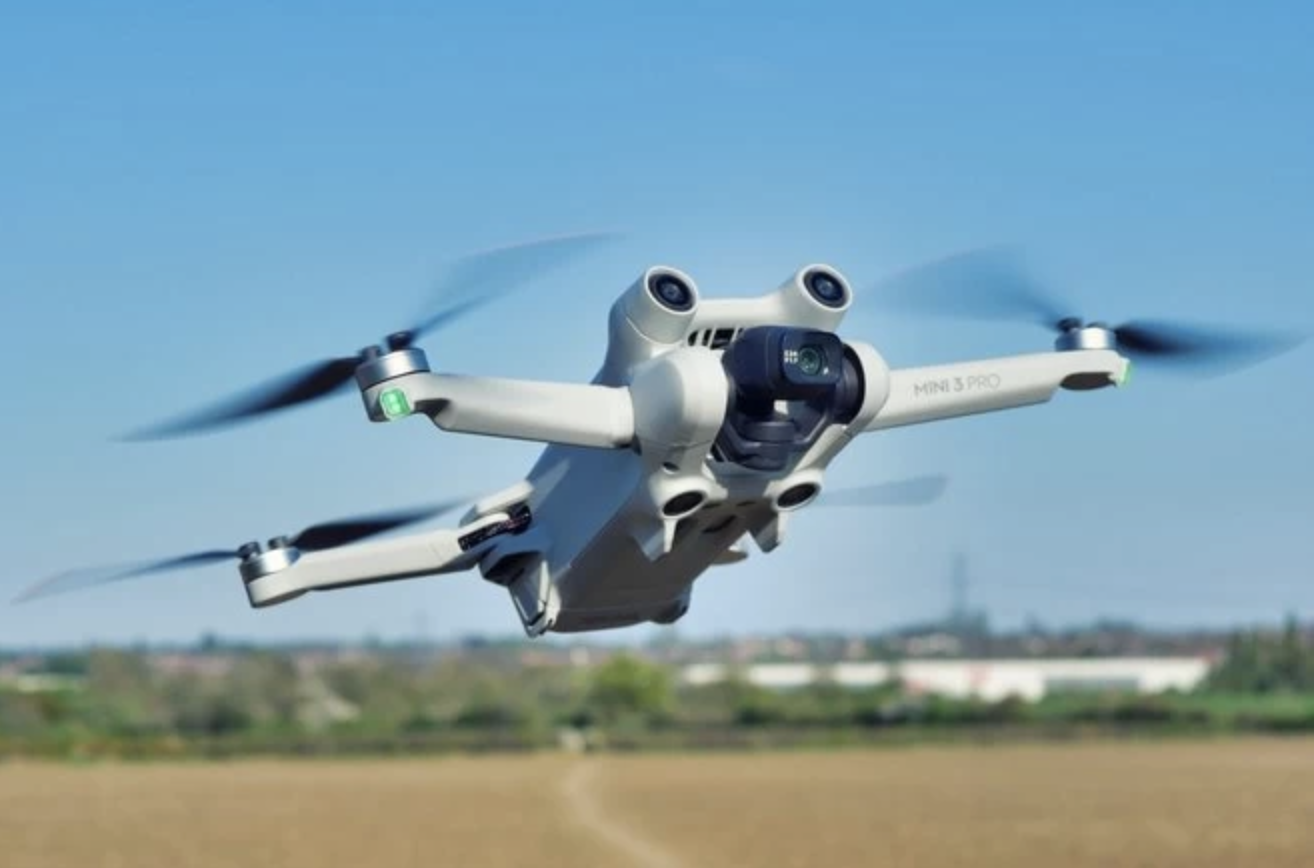 We were nervous initially, as the drone is so lightweight that you can just envision it being blown away, never to return, but it stayed exactly where we told it to, only swaying slightly. When looking at the video feed, it may as well have been on a tripod, staying smooth and steady even when it was forced to hover at 35-degrees to combat side winds.
The speed surprised us, as well - it's a very nippy drone, and the lack of weight means that it can accelerate astonishingly fast in Sport Mode. It might not be as quick as some of DJI's larger drones, but the quick acceleration makes it feel like one of the fastest around.
POCKET-LINT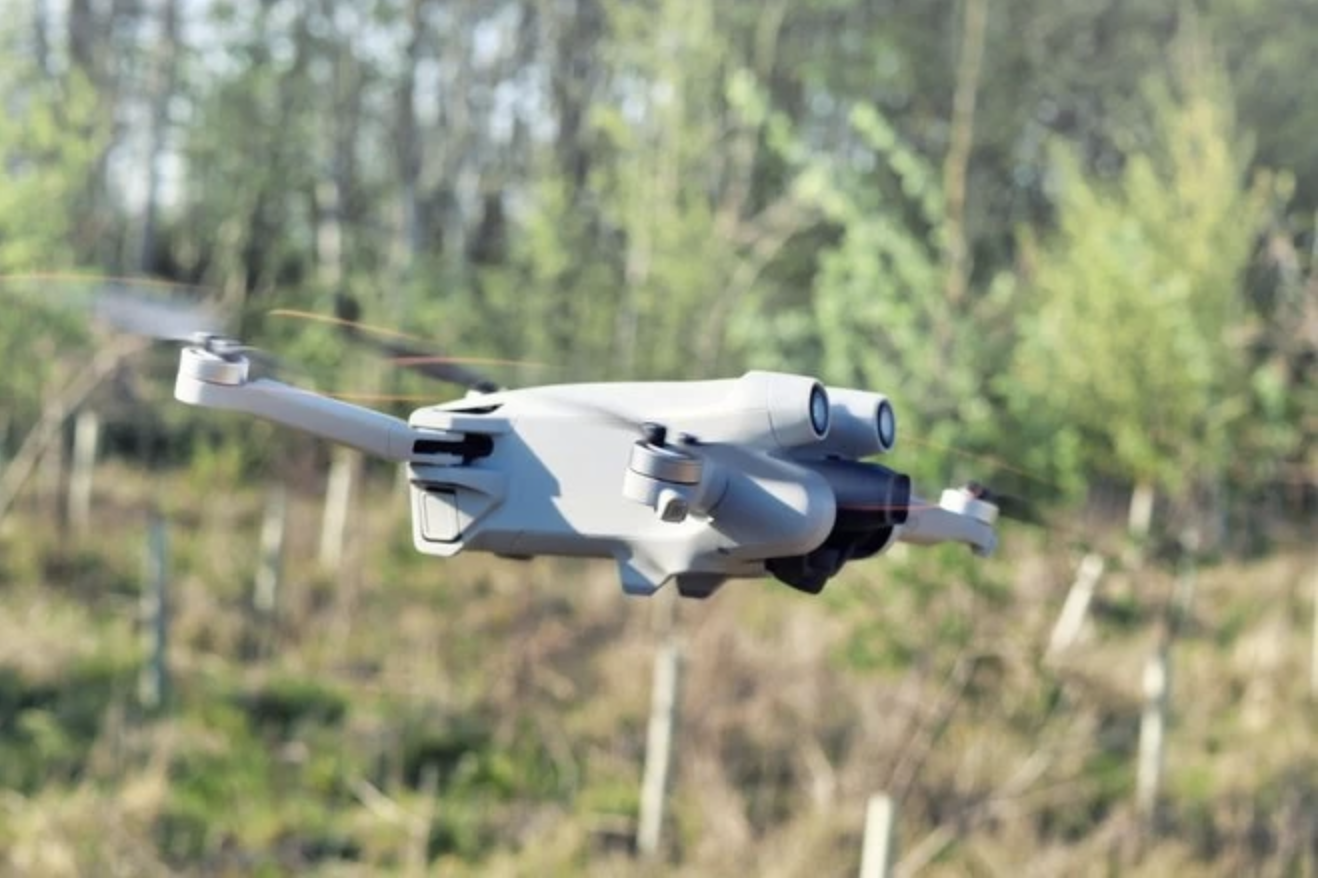 The Mini 3 Pro uses DJI's OcuSync transmission system, which bumps the live video resolution to 1080p - up from 720p on the Mini 2. In addition, you get a range of 12km, which is two extra kilometres over the predecessor. We didn't go anywhere near this limit, but we took it out pretty far and never experienced a loss of video signal. It's safe to say that it has more than enough range for the majority of users.
The largest changes in the flight experience are thanks to the new tri-directional obstacle avoidance sensors. The sensors allow you to fly much more confidently in tight spaces, as they essentially remove the risk of collision, which was a big hurdle for users of the previous generations. Especially with the price increase, flying the Mini 3 Pro in close proximity without sensors would not be something for the faint of heart.
POCKET-LINT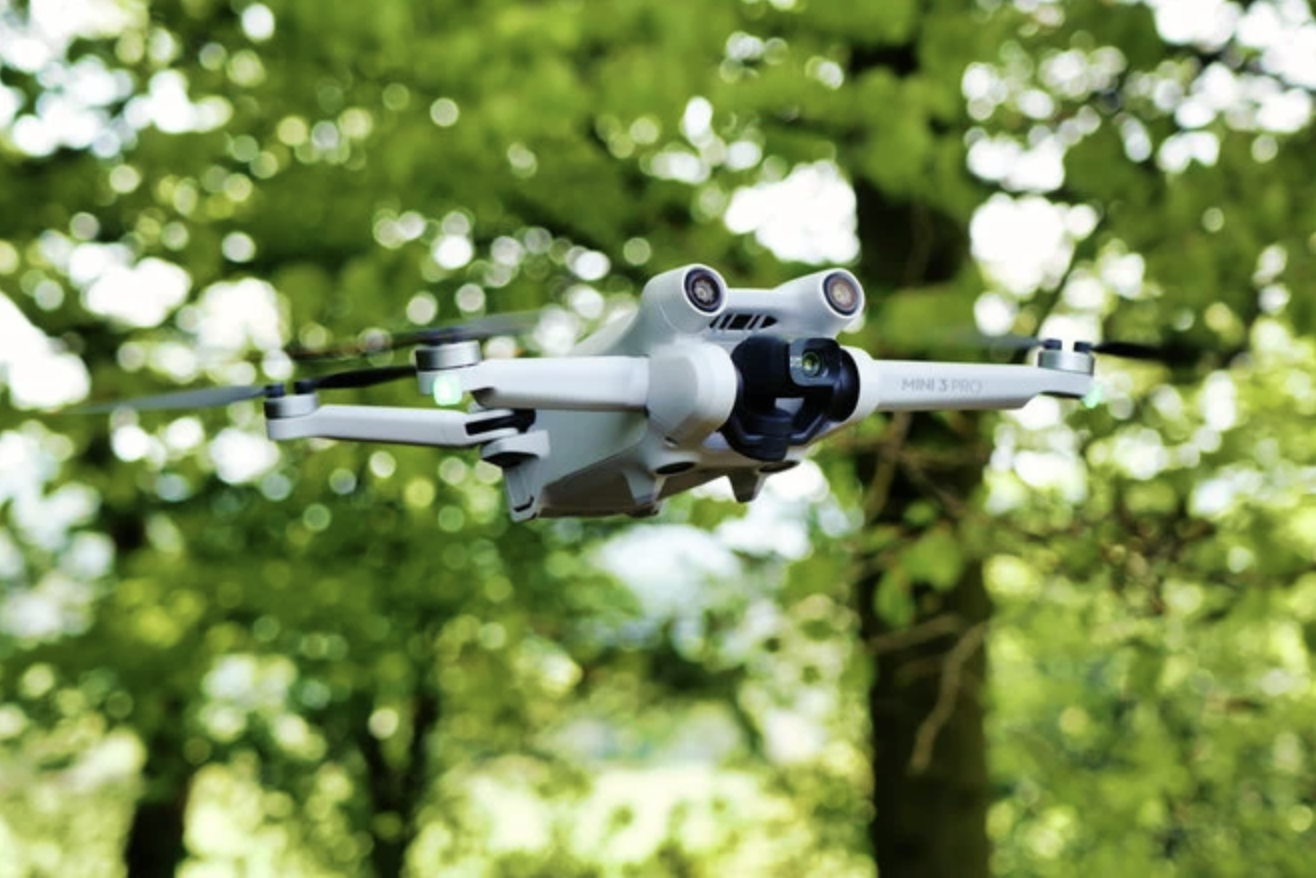 The new sensors also unlock ActiveTrack, as well as additional QuickShots and MasterShots. In our testing, all of these autonomous modes worked very well. While using ActiveTrack, the Mini 3 Pro benefits from APAS 4.0, which detects objects in the flight path of the drone and tries to intelligently move around them while still keeping the subject in the frame. It's not quite as advanced as the system on the flagship Mavic 3, but it does a good job and manages to make things look fairly smooth while improvising based on environmental cues.
The only minor niggle we found with the flying experience is that the Mini 3 Pro needs a flat surface to take off from, uneven surfaces can often mean that the propellers hit the ground, which is usually avoided by having larger landing gear. It's not the end of the world, as you can usually find somewhere flat enough to take off from, but it's not something we've had to give as much consideration with other drones.
Camera and image quality
1/1.3-inch CMOS sensor
24mm equivalent f1.7 lens
4K 60fps video / 48MP photo
True vertical shooting
The camera system has seen a number of upgrades over the Mini 2 - with the most notable being the larger sensor. This bumps photo resolution up to a whopping 48MP, compared to just 12MP on the Mini 2. Video framerate gets a boost, too, now offering 4K 60fps, when the previous generation maxed out at 30fps. Finally, the aperture has increased to f1.7, which, combined with the larger sensor, greatly improves the low light performance.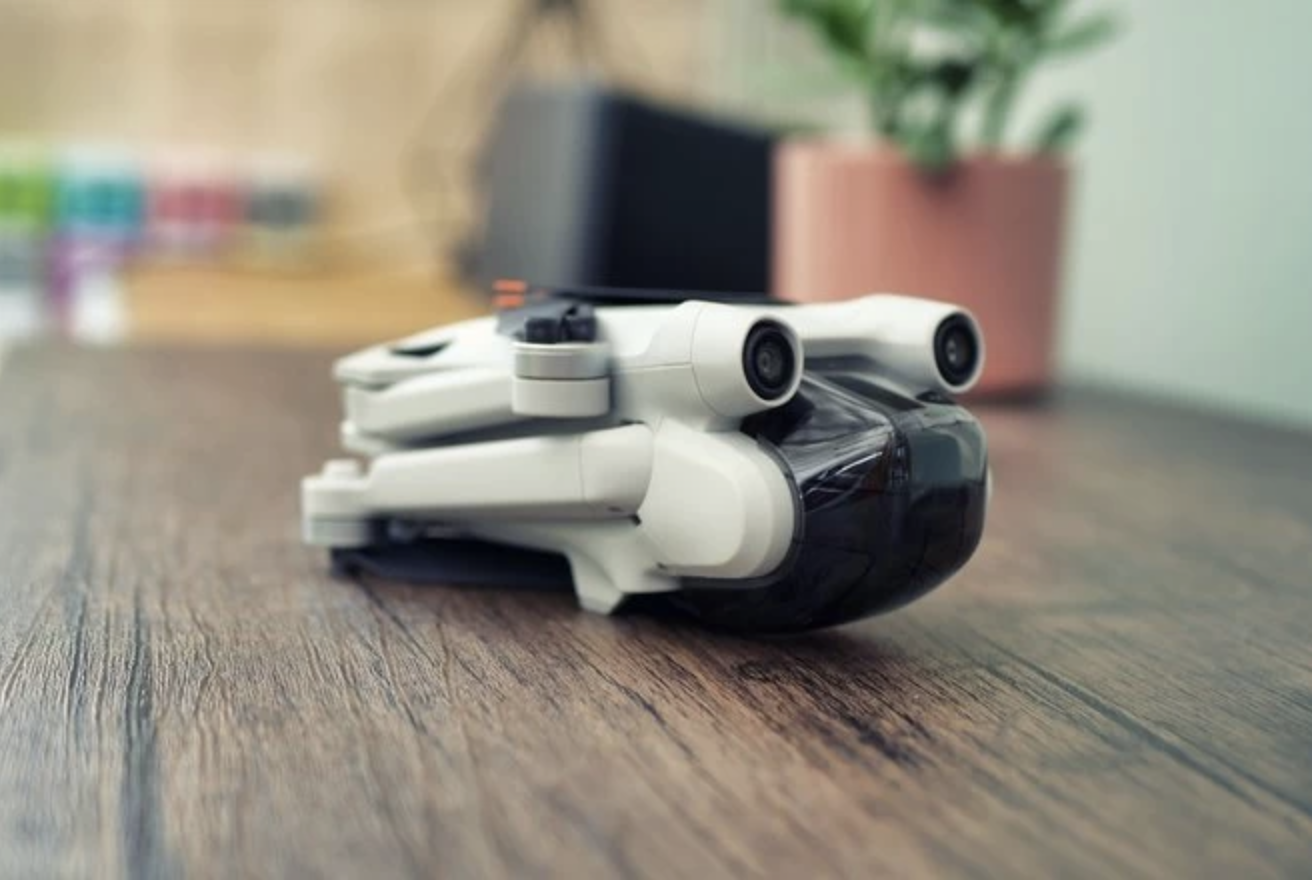 POCKET-LINT
Videos from the Mini 3 Pro look superb. There is plenty of detail in both the highlights and shadows across a multitude of lighting conditions. DJI says that it uses the sensor's dual native ISO to automatically apply an HDR effect to footage shot at framerates up to 30fps. We mainly shot at 4K 30fps, so we may have this technology to thank for the great dynamic range. Any footage shot at 60fps still looks lovely, but it doesn't offer the same level of flexibility.
The colours produced by the standard profile also look accurate and vivid. There's a D-Cinelike profile, as well, for those who'd prefer to apply their own colour grade but, unfortunately, the early firmware with which we did most of our testing didn't have it included. This is a great inclusion and something that makes the Mini 3 worthy of its Pro moniker.
Unsurprisingly, there's no adjustable aperture on the Mini 3 Pro, and this can make sudden lighting transitions look a little more jarring while the camera does its best to adapt. It's easily rectified by manually setting the exposure, but it's something to watch out for, regardless.
Photos from the Mini 3 Pro are excellent, too, and the bump in resolution is very noticeable when zooming in on the image. If you're pixel peeping, sharpness is, as usual, best at the centre of the frame, but the new camera does a stellar job of outputting a pleasing low noise image in a variety of lighting conditions.
POCKET-LINT
Of course, there's now vertical shooting, too. In our experience, the results are much the same as traditional shooting, just with a vertical frame. The gimbal does a great job of keeping things steady and smooth, you'll just have to work a bit harder to keep your subject in the frame. Vertical FocusTrack wasn't added to our pre-release firmware, but we imagine it would take a lot of the hassle out of this format.
To recap
The DJI Mini 3 Pro is our new favourite drone. It's got almost all the features you could want from DJI's larger drones but is shrunken down into a tiny and lightweight form factor. The image is superb, the flying is smooth and you'll barely feel it in your backpack. Our only wish is that it didn't cost so much. We think there's more than enough added to justify the price increase, but it puts it out of reach for a lot of consumers. If the Mini 3 Pro was priced closer to its predecessors, we think it might just be the perfect drone.
Note: This is a sample article from this article. It is created just to show Viqeo technology for automated video summarisation and doesn't mean that we work with the original website.