Brand Lift surveys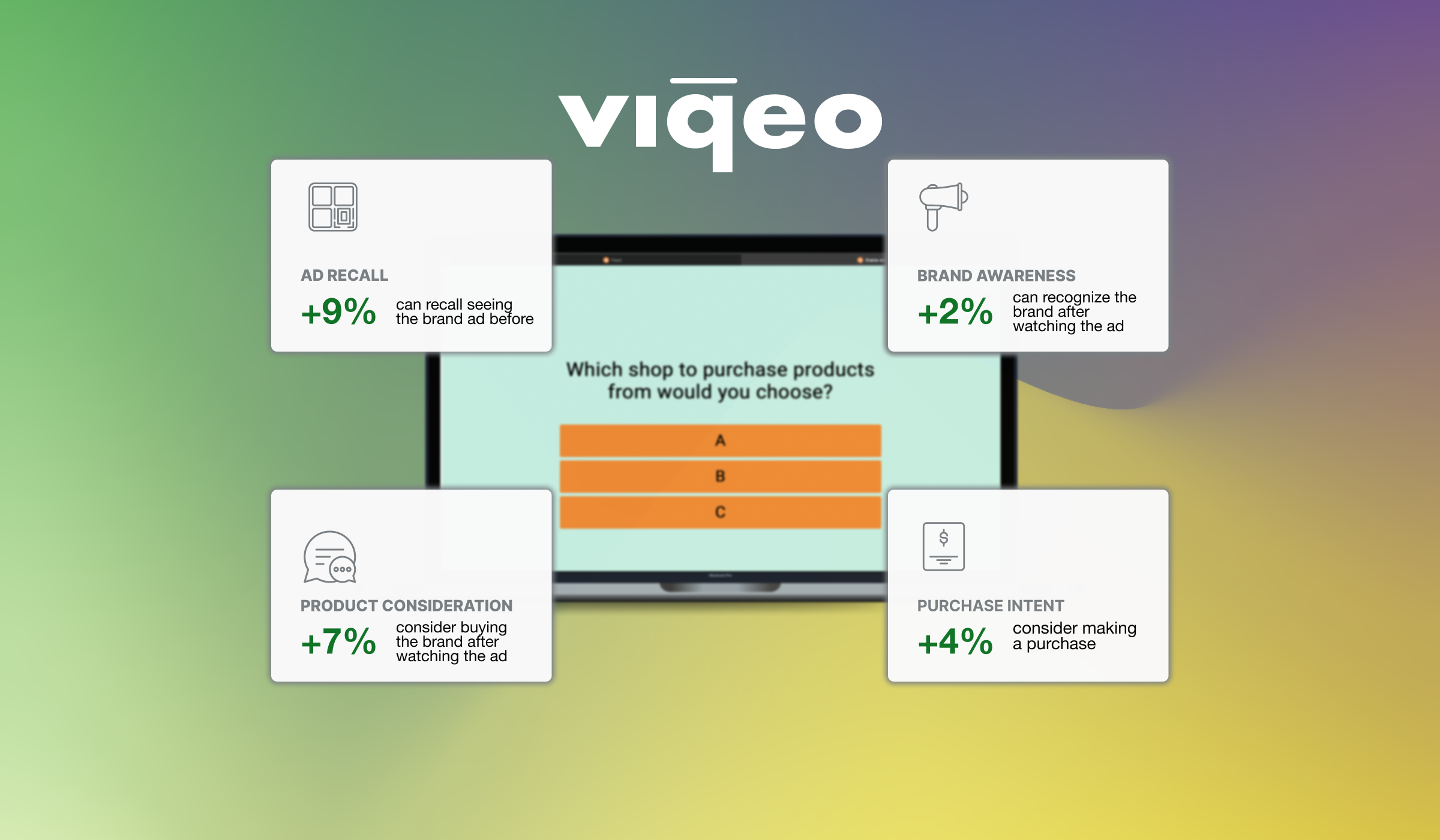 Viqeo team strongly believes in branding as a critical element to the company's lifelong success. If only there was a way to look beyond traditional campaign metrics like clicks and impressions and gather more genuine audience insights...
A Brand Lift study is a tactic that many marketers have been leveraging to evaluate marketing strategies and customer experience, and that is also a powerful tool that comes at your disposal while working with Viqeo platform.
More on Brand Lifts
Brand Lift studies rely heavily on a survey format to gather consumer feedback. There are several types of brand lift studies, all of which support the overall goal of learning the effectiveness and impact of a campaign but separately measure different metrics like brand awareness, ad recall, brand favorability, and brand interest.
Ad Recall - shows how well the audience remembers your ad (see top example below)
Brand Awareness - shows how well the audience recognizes
your brand
Product Consideration - shows if the audience is likely to
choose your brand among competitors (see bottom example below)
Brand Favorability - shows if the audience prefers your
products to others
Purchase Intent - measures intention to purchase your product
Brand Interest - studies target audience's behavior
---
Overall, Brand Lifts enable businesses to learn what their audience truly wants and later use this data to improve their products or services as well as optimize future marketing campaigns.
Now let's move to why you should choose Viqeo to start conducting your own Brand Lift surveys.
Easy-to-use Brand Lifts builder
With flexible preset settings, you have complete control over your Brand Lift player look. You can create a customized player style, add a logo, brand images and colors to match the finished survey perfectly with your brand identity.
The user-friendly Viqeo editor offers two ways to create Brand Lifts: within Viqeo Studio or (even better) build surveys in your self-service DSP UI. A finished survey is available to you via URL, which you can instantly submit for the client's approval or share using various marketing channels.
💡
Learn how to build Brand Lifts in Viqeo editor
here
.
Flexible in sizes and format
Viqeo generates Brand Lifts in a few formats: JS-codes for banners and VAST-tag for video, allowing you to easily integrate them into any ad campaign. While easily implemented, Brand Lifts are also dimension-free and adaptable to any screen ratio. Because sometimes you need to place a banner in a vertical format as shown below:
Competitive prices
At Viqeo, we endorse getting that value in return for the money being invested, so we're offering different options that allow you to access the Brand Lift functionality in the most profitable way possible.
Whether you choose to conduct Brand Lift surveys using Viqeo inventory or via engaging a third-party SSP, we are happy to adjust to your preferences and always open to discussion.