Increase in-stream inventory with Viqeo
The downside of a longer time and a lot of dedication to prepare the in-stream ads is easily solved with the help of Viqeo platform and our fully-optimized in-stream ads inventory kit.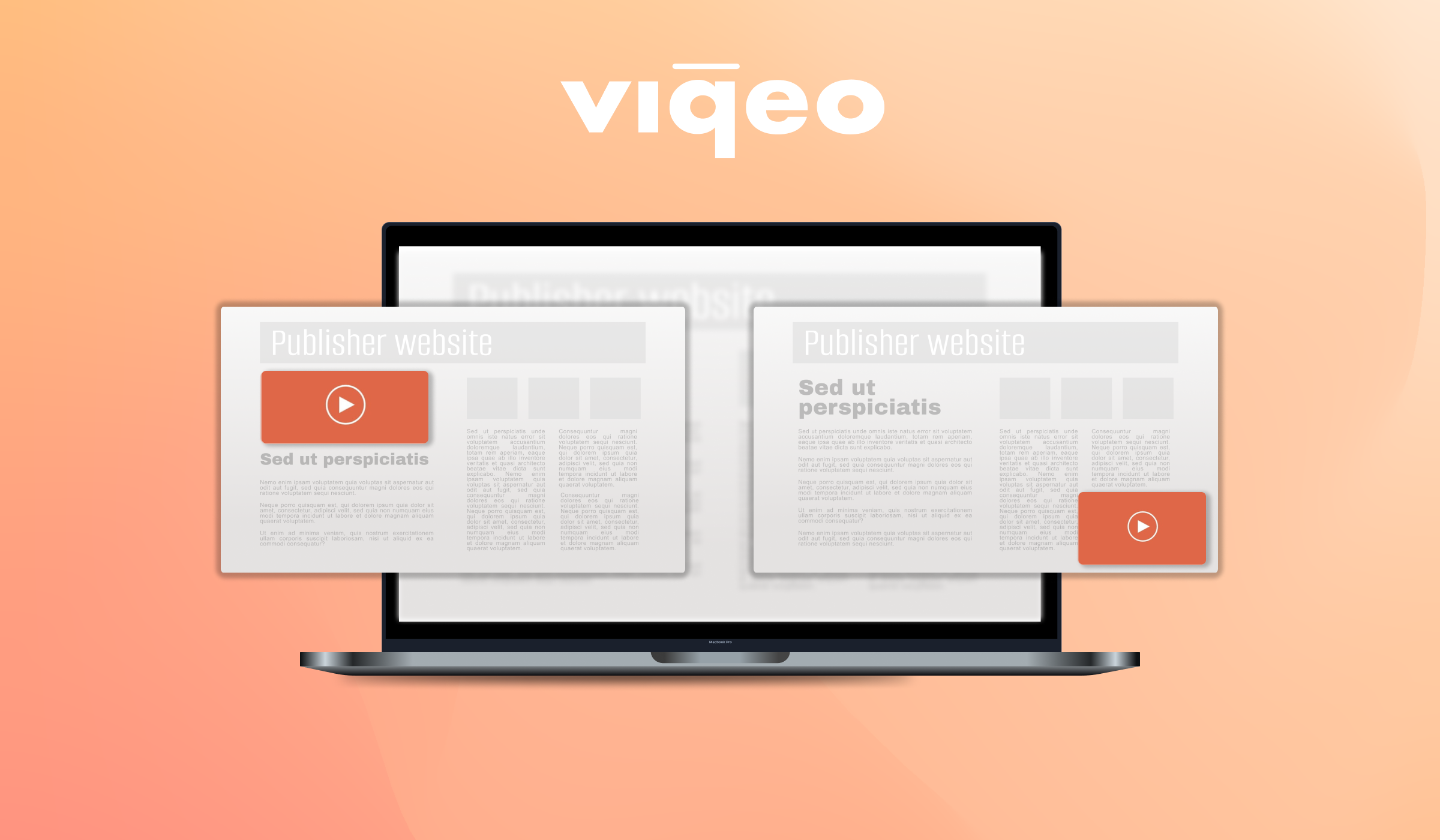 Not all video ad formats are born equal. In-stream video ads have been the backbone of most digital publishers' monetization strategies, and despite being one of the oldest video ad formats, they're still as popular (and effective!) as ever.
Why so? Mainly because in-stream video ads only feature native content, unlike its widespread alternative, the out-stream ads, thus enabling the audience to see relatable information and bringing value.
Another reason you might stick to the in-stream ads is that they provide a smoother user experience. Highly engaging and interactive, the ads blend smoothly with the original video attracting the viewers' attention and making them stick around for a little longer.
The downside of taking a longer time and a lot of dedication to prepare the in-stream ads is easily solved with the help of Viqeo platform and our fully-optimized in-stream ads inventory kit.
Autoplay
The first in-stream tool Viqeo offers is smart Autoplay, which also comes along with the more traditional click-to-play option (but where is fun in that, huh?)
Smart Viqeo Autoplay finds the perfect moment to start your video without you ever lifting a finger. Automatic video playback prevents your audience from ignoring the play button and ultimately missing your video ad.
Is Autoplay still a thing, you think? Despite some of its' drawbacks, it gives you a decent chance of capturing viewers' attention, especially now when people swiftly find new ways to avoid online advertising.
Recommendations player
Another feature worth adding to your in-stream inventory is the Recommendations player. It automatically shows your viewers relevant content from a dedicated folder that you've carefully handpicked and put together beforehand.
Recommendations player comes preloaded with a powerful analytics tool that allows Viqeo to sort the uploaded content and prioritize the new, unseen, or most-watched content.
Other useful features include:
video loop;
compatibility with Sticky mode;
compatibility with Viqeo presets;
play on mute or by clicking play.
Learn more about Recommendations in our Support centre.
Viqeo Auto-recommedations
Worried you don't have time to upload folders of relevant content? No problem, we've got that covered too!
Viqeo platform can put together Auto-recommendations  – short video clips assembled from the most-watched videos from your articles (e.g. based on your RSS feed).
We even care of your Auto-recommendations look and feel by adding your brand colors and preferred soundtrack to the player and setting up its controls.
Lastly, Auto-recommendations can be monetized, adding up to page views which in its turn increases time spent on your website and your overall ad inventory.
Article-to-video
Our latest and possibly finest addition to the in-stream inventory kit is Article-to-video player. It is an AI-based tool that allows publishers to convert their articles into premium in-stream videos automatically.
The best thing about it? It provides additional ad placement without the need to perform complex integrations. You quickly set up your player and place it anywhere on the page. Embedding the player at the top of your article and enabling the Sticky-mode guarantees up to 100% viewability and VCR.
We've already covered our Article-to-video player and different ways to implement it detail right here.
A holistic online video platform like Viqeo is your first choice if you're looking for an easy way to start monetizing with in-stream video ads.
With our versatile ad inventory and round-the-clock online support, advertising has never been easier, but don't trust our word on it, go try yourself!